Resumption of Research Activities
Office of the Vice Provost for Research
University of Pennsylvania Research Resumption Phase: Fall Semester
The Fall Semester Phase eliminates the explicit population density limit as a percentage of normal occupancy while still requiring social distancing in all spaces, anticipates some expansion of activities in field work and human subjects' studies, streamlines the close contact exception process and defines exception criteria for use of meeting spaces.
The majority of the requirements in the Phase II plan remain in place during the Fall Semester Phase.  These include the requirements for school and faculty research resumption plan approval, exception approval for research related travel, office use approval, field work approval, and processes for clinical and non-clinical studies involving human subjects.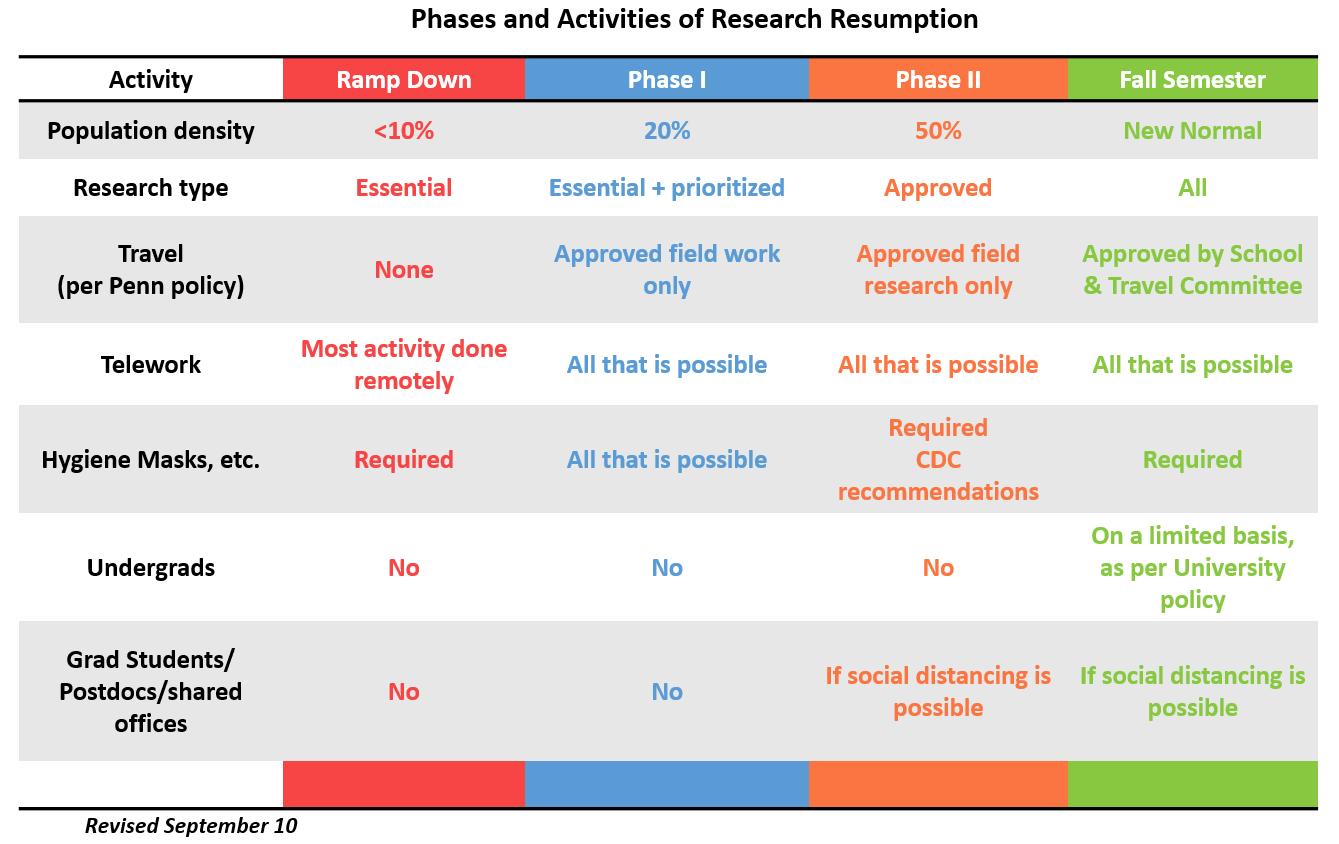 Penn Engineering|Mitigating COVID Transmission
Watch Town Hall RRA Update – 9/10/20  (Password – 8W0yA=.g )
Resumption of Research – Mitigating COVID Transmission Slides 9/10/20
COVID-19 Related Training for Penn Employees
Penn COVID-19 Training for Workers – 5/14/20
Resumption of Research Training for Penn Labs – 5/14/20
FRES Commitment to Clean – 7/14/20
Penn Engineering Town Hall Update from August 13th:
Watch Town Hall Update   (Password — d.QFzC8@)
SEAS Town Hall RRA Update Slides- 8/13/20
Q and A from Town Hall 8/13/20
Phase 2 Resuming Research Activities (RRA)
Phase 2 of the Resumption of Research Activities – Monday, July 13. This phase will allow access to campus for people to complete essential on-campus activities approved in Phase 1 and revised in Phase 2. 
Phase II, much like Phase I:
Will require a justification for the need to access on-campus infrastructure for students/postdocs to progress in their research and to deliver on grants, without which the work could not be carried out

Any activity that can be done remotely, should continue to be done off-campus 

General research travel is not allowed without authorization

Resumption of research activities is voluntary and managed through an opt-in process
Increase occupancy in our buildings to 50% normal operation

SEAS guidelines of >100 sq ft per person in laboratories

For those with justifications to be on campus, office space can be used if social distancing can be maintained
If you are a trainee or staff member that was approved for Phase I return, you do not need to complete any additional form for Phase II. Your mentor/supervisor, however, must present an updated plan that meets all of the distancing and safety requirements for Phase II. 
Phase 1 Resuming Research Activities (RRA)
As we now look ahead, Penn Engineering is resuming on-campus operations as approved by President Gutmann and in conjunction with the Office of the Vice Provost for Research. This page will be updated as information becomes available.
Phase 1 of Resumption of Research Activities will commence on June 8, 2020, consistent with the guidelines from the plan from the Vice Provost for Research https://research.upenn.edu/resources/resumption/
Access to all buildings in the Penn Engineering Complex is restricted to approved personnel. All laboratories and classrooms inside the complex are locked and accessible only to individuals who have had their activities approved as part of the Phase 1 reopening. To request access, please contact adro@seas.upenn.edu. Currently, access is prohibited to undergraduate students.
We established the COVID-19 Research and Academic Safety Reporting Committee to serve as our ears and eyes on the engineering campus to make it easy for the members of our community to report egregious conduct or coercion of any form.
Penn Engineering Resumption of Research Activities Plan
Penn Engineering Town Hall Meeting: Resumption of Research Activities – 6/5/20