Resumption of Research Activities
Office of the Vice Provost for Research
University of Pennsylvania Research Resumption Phase: Fall Semester
The Fall Semester Phase eliminates the explicit population density limit as a percentage of normal occupancy while still requiring social distancing in all spaces, anticipates some expansion of activities in field work and human subjects' studies, streamlines the close contact exception process and defines exception criteria for use of meeting spaces.
The majority of the requirements in the Phase II plan remain in place during the Fall Semester Phase.  These include the requirements for school and faculty research resumption plan approval, exception approval for research related travel, office use approval, field work approval, and processes for clinical and non-clinical studies involving human subjects.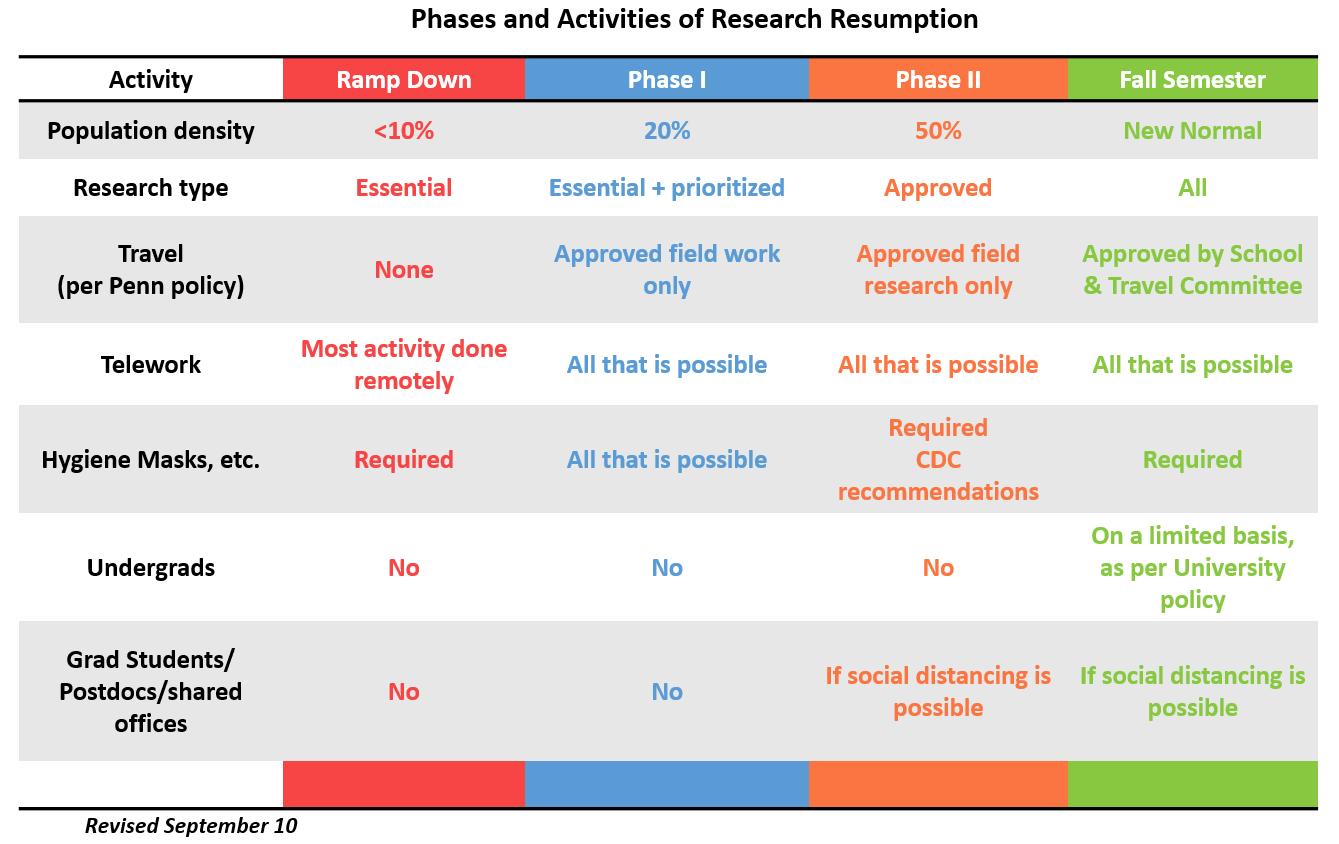 Penn Engineering|Mitigating COVID Transmission
Watch Town Hall RRA Update – 9/10/20  (Password – 8W0yA=.g )
Resumption of Research – Mitigating COVID Transmission Slides 9/10/20
COVID-19 Related Training for Penn Employees
Penn COVID-19 Training for Workers – 5/14/20
Resumption of Research Training for Penn Labs – 5/14/20
FRES Commitment to Clean – 7/14/20
Penn Engineering Town Hall Update from August 13th:
Watch Town Hall Update   (Password — d.QFzC8@)
SEAS Town Hall RRA Update Slides- 8/13/20
Q and A from Town Hall 8/13/20
Visiting Campus Updates (December 2020)
1. We continue to operate under the fall semester guidelines, which uses restricted building hours access (7AM-11PM) and requires the use of appropriate PPE throughout all buildings.
2. With the onset of winter, we added nearly 100 indoor eating stations throughout the engineering complex. These eating areas are clearly marked with signage, are single-seat areas, and should be used for no more than 30 minutes by an individual. Finally, individuals should limit their conversation while using these areas. Please clean the areas prior to and following use.
At no time should tables be combined to form larger group eating areas.
Note: If you are already approved for returning to campus on a regular basis, there is no additional approval needed. Your access will continue without interruption. You do not need to fill out the updated form.
-If you visited campus on a one-time basis in the summer/fall, you will need to use our updated form (linked above) to request additional one-day visits in the spring semester.
-If you would like to return to campus, either for one-time visits or on a regular basis, and you have not been approved to return, please use the updated form to request your preferred access.
4. If you are required to work in close proximity (<6') to another person for more than 15 minutes, you are required to complete a form for an exception.   
5. Upcoming plans for the spring semester, including recent information on the vaccines and testing plans for the spring semester, are contained in this recent webinar.
6. With the prevalence of remote teaching in the Spring semester, we expect very little change in the occupancy of our buildings next semester.